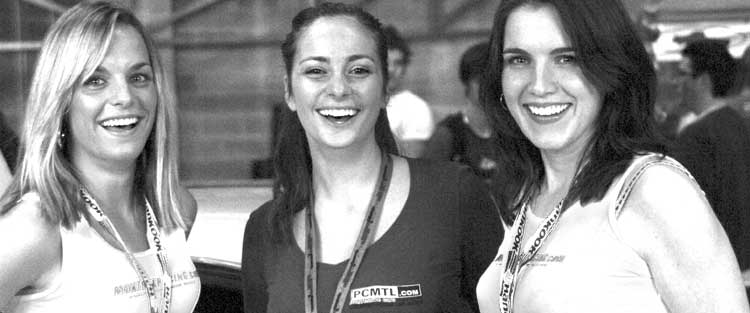 Model.
We have both experienced and amatuer models registered in our database. Models are not needed to be experienced to start their work as a race queen. You may work in kiosks to promote a vehicle or product for a sponsor. You may be asked to stand alongside holding a product or next to a car. Applicants must be comfortable wearing revealing clothing, afterall, you are applying to be a race queen. Expect people to take photos of you and with you, afterall, you will look good. Experience is not necessary, you just need a good smile and that's all it takes. This is your chance to be a model for a weekend, in a safe non-nude environment open to children and family, and not some sleazy nightclub bar. You'll have an opportunity to learn what it takes to be a model, like some of our many other candidates registered in our temp agency.

Retail.
In addition to models, we have experienced retailing staff registered in our database. Your job will be to endorse the official products for the main event. You have traits gathered from having worked in retail stores, restaurants and bars, signing people up for credit cards, the Bell Centre and Olympic Stadium, on Crescent street and Circuit Gilles Villeneuve, Jazz Festival, LaRonde, anything that had you surrounded with mass amounts of people at main events. Photo queens and attention seekers need not apply as this is a quick paced retailing job, not a modelling photo session. We are more interested in what you can do, and less interested in how you look. Your task is to earn as much money as you can to achieve your bonus. You are expected to perform to your abilities working in the team by responding to the environment of people that surrounds you. You are choosing this job because you are good at what you already do, your reward is your immediate pay at the end of the day.

Click here to browse staff profiles.

Click here to login to your profile.

Read below to register a new profile.

APPLY ONLY IF YOU ARE RESPONDING TO A JOB AD. Please do not apply if you have found this webpage by random surfing or google. You must be replying to a job ad.

1. send an email to info@pcmtl.com , include in your email:
-attach at least 3 recent photos, webcam and cellphone shots ok. we prefer candid shots of you with friends over glamourous portraits.
-the profile name you chose on our website
-your height and weight
-your pants/waist size
-your top/shirt size
-your age if you are under 21.
-Add any other necessary info to make us really want you, fun stories of your experiences, whatever. A c.v./resumé is not required, but if you feel it will help us know you better, please cut and paste your c.v. as plain text in your email instead of attaching it as a document.

2. If you have been registered with us before, log back in to complete your profile with as many details as possible, no matter how insignificant. Our sponsors will pay more attention to someone that has worked selling popsicles and ice cream on a bicycle, over someone that has never worked in public before.

3. Click here to Register online.