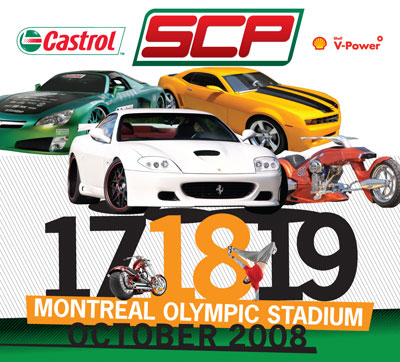 2008-10-17,18,19
Stade Olympic: SCP
Since 1999, Team SCP has been producing premium automotive lifestyle events throughout Canada. With the advent of their original event, the SCP Auto Salon back in November of 2000, Team SCP has produced to date over 60 events including the Full Throttle Show and the BFGoodrich Sport Compact Nights Canadian Tour. Based out of Montreal, Quebec, Canada, Team SCP is dedicated the continuous growth of the car customization scene. Now in its 9th edition, the SCP Auto Salon has become the ultimate destination and showcase for the automotive aftermarket in North America and is regarded by many as the mecca for car enthusiasts everywhere.
http://www.sportcompactperformance.com/

Customized car show Castrol SCP Auto Salon revs up its ninth edition with full slate of activities
Biggest car event in Canada to host 300 competitors and nearly 60,000 visitors
Montréal, October 6, 2008 — It is the destination of choice for people who are passionate about cars. Automobile aficionados from near and far will gather at the Olympic Stadium in Montréal October 17-19 for Canada's biggest car event and most prestigious car show, the Castrol™ SCP Auto Salon, fueled by Shell V-Power™.
The event will feature a full slate of activities for car fanatics in an all-inclusive format, including the annual show car competition with entries from across North America, product and vehicle unveilings, and stage shows. The event runs from Friday 5:00 p.m. to Sunday at 6:00 p.m. Admission is $17 for general admission, $6 for children 8-12 years old, and free for children 7 years old and younger. Salon organizers expect nearly 60,000 people to visit the event over its three-day run.
"This event is the only one of its kind in Canada, and it features a huge collection of the craziest cars around," said Marsha McLaughlin, Marketing Communications Manager, Wakefield Castrol Canada. "Trends in car design change all the time, and this show is essential for anyone who wants to keep up with them."
One of the mainstays of the Castrol™ SCP Auto Salon is the annual car show, featuring the top show vehicles from across North America in the Bud Light Show 'n' Shine Competition. This year, some 300 competitors will enter their customized street machines in the contest for Best of Show honours, with more than $10,000 in cash and prizes up for grabs.
"The prestige of winning at SCP is what motivates people," said Ben Woo, National Director, Castrol™ SCP Auto Salon. "Tuners work for months and months on these cars. Because they know that if you win here, you can win anywhere."
And the event is truly powered by Shell. "Shell V-Power gasoline is recognized around the world for it's high quality and performance capabilities, making it a perfect fit for the SCP Auto Salon – Canada's most prestigious indoor car show," said Alex Drohomyrecky, Fuel Quality Advisor, Shell Canada.
Unveiling of Castrol™ Top Tuner Project
New product and vehicle unveilings have also become a tradition at SCP. For this edition, one of the most anticipated features will be the unveiling of the third installment of the Castrol™ Top Tuner Project, where Canada's top vehicle designers show off their latest super customized cars. This year, with the unveiling of the Top Tuner Cadillac CTS, visitors will get a chance to see the ultimate customized car ever produced.
The Castrol™ Top Tuner car project began in 2006 when the Top Tuner Pontiac Solstice was unveiled, and continued in 2007 with the Top Tuner Saturn Super Sky. Internationally-recognized designers Chris Nankoo, from Longueuil, Québec, Serge Leger from Shediac New Brunswick and Tajai Das, from Toronto, Ontario, worked on this year's model. The Top Tuner Cadillac CTS will be available for viewing at the Castrol booth.
Intel Extreme Masters III live at SCP
Fasten your seat belt, Intel Extreme Masters Global Challenge has come to SCP, the first time ever, Intel has joined the SCP event, Montreal will be the third stop of nine stops from around the world. Casual gamers and pro gamers will suit up for competition, and dazzle the crowd with amazing games. The Intel Masters Global Challenge will draw amateur gamers and pro gamers alike. Professional teams from around the world will compete head to head for a shot at $80,000 in prize money. But you don't have to be a pro to game here. Intel will have simulated Formula 1 race cars that take advantage of the best processing power Intel's got, gaming stations where you can play the latest and greatest and the chance to watch the Pro Teams from key vantage points.
"At Intel we're all about speed and performance. Gaming companies like Ubisoft harness the power and performance provided by the Intel Core family of processors, and we think there's no better place to showcase leading edge games than with the fastest, newest and most exciting cars in the world," said Nancy Demerling, Consumer Marketing Manager, Intel of Canada. "We're as passionate about gaming as people are about their cars and we're proud to be a partner in this event."
As a break from checking out the new automotive hardware, event visitors can check out the Rocawear Stage Show. The stage will be pumping to the sounds of the best in urban music. In partnership with MusiquePlus, the stage will present electrifying hip hop, groove, house and breakdancing. The lineup includes: DJ Short Cut, Sans Pression, L'Assemblée, Carl Henry, Studio A Dance Crew, 8 Count Dance troop, and Baseline Studios.
The ninth edition will also see the return of the popular Ms.SCP bikini pagaent, the largest contest of its kind in Québec. Presented by DouYouLookGood.com, the bikini pageant will be hosted by celebrity personalities DJ Shortcut and Babu. For details on event programming, click on the auto salon's website, www.SalonSCP.com.The annual SCP Auto Salon in Montréal has become Canada's premier event for the auto performance aftermarket, attracting more than 55,000 visitors per year and more corporate vendor booths than any other automotive event in Canada. The event has earned top international prestige in the automobile sector. In 2005, U.S.-based judging association National Custom Car Association (NCCA) awarded the Castrol SCP Auto Salon with coveted quad-point status, one of only three events in the world to be awarded the designation.
About Team SCP
The Ninth Annual Castrol™ SCP Auto Salon, fueled by Shell V-Power™ is a production of Team SCP. Based in Montréal, Québec, Team SCP was founded in 1999 as Team Sport Compact Performance, and since then has been actively producing sport compact events and developing the Canadian auto performance aftermarket. It is SCP's mission to provide the ultimate platform for car enthusiasts, media and manufacturers, to celebrate their shared passion for automotive tuning.
François Légaré / Pascale Dudemaine
Torchia Communications
514 288-8290, ext. 222 / 240
francois@torchiacom.com
pascale@torchiacom.com
---
.

---

PLAN_PCMTL.gif
PLAN_PCMTL.pdf
press_release.txt