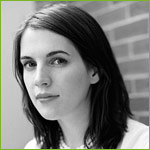 2007-02-09
Aimee the poet

02:09
Knorr Paint by Palate
Painting simultaneously in Toronto, Montreal, and Calgary, February 7-9 (8am – 6pm), emerging artists from local arts schools will be creating mouth-watering masterpieces in the glass-walled, Knorr Flavour Studios.
By creating your own masterpiece here in our virtual gallery, Knorr will make a $10 donation to the artist's school or program. All submissions are eligible to win great prizes including a year's supply of Knorr Ready-to-Serve soup and product from KitchenAid. Help support the Arts in Canada!
Aimee Davison spent the early part of her life painting with non-toxic materials on construction paper, cardboard tubes and furniture and sold her first paintings at her high school's annual art auction. After finishing her Bachelor of Arts in English from the University of Calgary in 2000, Aimee moved to Montreal to pursue her fine arts career. In 2002, never one to settle on one discipline, she began freelance writing while continuing her visual arts training at Concordia University. Aimee's style is bright, vivid, contemporary and often abstract. She is as influenced by unsigned works in graphic design, as she is by masters like Klimt, Dali, Waterhouse, Picasso, and the Group of Seven. Since moving to Quebec, she also appreciates and incorporates the Quebecois "Art Naïf" style into her works and even "paints electronically" in Photoshop.
Aimee will be painting in the glass-walled, Knorr Flavour Studios in Montreal at the Bell Center from Feb 7-9 (8am – 6pm). To see her progress, click on a thumbnail below to view a larger version.
---