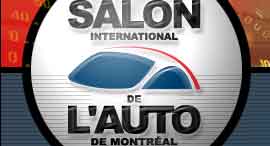 35e ÉDITION - LE SALON INTERNATIONAL DE L'AUTO DE MONTRÉAL
Palais des Congrès de Montréal
Du vendredi 22 novembre au dimanche 1er décembre 2002, 375,000 pieds carrés, Nombre de véhicules présentés : 650, Prix d'admission : 12.00$ <more...>


So you want to buy a new car?
I love this car show. New new new. The real new smell (not the factory added Honda smell that hangs around in your car for 10 years). The feel of new leather. Paint that is deep and thick. Engines you can eat lunch from. It's also just plain cool--walking into a giant room filled with hundreds of cars. Why November? Only 10 months since the 2002 car show earlier this year, it's been bummped to compete with Christmas, since most people are broke after. It was fun to see and touch the 350Z, GMC's H2, and the Austin Martin with the ejector seat (gotta love those factory missiles and turret guns, come to think of it, $335000 is kinda cheap for all those options). Plenty of concept cars for World-Fair lovers. Perhaps the best thing that this show has to offer, is to give all us slackers a kick in the butt to work a little harder in our lives to save up that piggy bank. Afterall, nothing like a new $41000 IS300 with another $30000 dropped into it! Besides, you need something new to show off with when the season begins again Spring 2003...

WHERE TO GO: At metro place d'armes, expect Chinatown parking to be $12-15, true rape, you gotta leave your keys, and expect some paint to be missing when you come back. Do the smart thing and park at a nearby metro close to your home, and make your way down there (West Islanders should park at Hwy20/St-Jean and take the 211). If you absolutely must take your wheels because you just can't leave your 145db caraudio, you will find a endless supply of parking all south-west of McGill/NotreDame, $7-9.

WHEN TO GO: The best day to go was the very first day, visitors were still working, salesgirls are all energetic and peppy. Call in sick, take a day off, and go in the morning when it opens at 11am. Crowd will be sparse, especially if you want to take wonderful pics of your John Scotti's without people standing in the way. If leaving your workplace in the morning means losing your job, yes, you can go at night until 11pm, but it will be more crowded, expect to line-up to wait your turn just to sit in demo car.

WHEN NOT TO GO: Absolutely AVOID going during the last two days Sat-Sun, if you thought boxing day for new 99$ PS2's might be hell, the car show is a lot worse. You wont be able to sit in any demo car, let alone get close to one to touch. Freebies will have run dry, baby spit on the steering wheels, and salesmen are grouchy and just want to go home. If you must go on the weekend, well don't say you weren't warned.
Cliquez ici pour plus d'images:



Cliquez ici pour plus d'images:


Chrysler, General Motors, Ford, Nissan, Honda, Saturn, Toyota


Audi, Maserati, Porsche, Suzuki, Mini, Kia, Subaru, Mercedes Benz, Ferrari, Nissan, Lambourghini, Austin Martin, Volvo

Rejected Images Collection





Nous souhaitons que chacun de vous puissiez nous envoyer un courriel. Dites nous si votre voiture, vous, ou meme un ami apparaissent dans nos photos. Donnez nous vos commentaires et dites-nous ce que vous pensez de notre travail.

Pour laisser un commentaire, cliquez ici.

_________________________