2002-08-08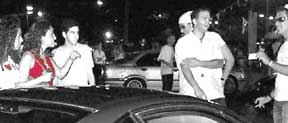 Julep have a good time tonite
This is what many like about Julep, people come to chill and have a good time. So many people packed the terrasse (where the picnic tables are), it looked like the top floor of NewTown. Julep bouncers didn't seem to be turning away people as the flow of cars going in and out were consistent. As the usual people handed out party cards to promote their shows, police handed out "Pensez-y Ralentissez" flyers, showing off their new Dodge Intrepid with police package under the hood (cuz this is what will be chasing you if you try to run away)! A mix of everything this night. All cars, new, old, fuzzy, and loud. People smiling and laughing. Dogs and babies chilling. People wondered how the solar powered car from McGill got over (it was night time...). There was a Mustang with a big chunk out of it (eww)! Camaro Pace Car. Riced up Ford Escort. The home theatre Alpine1 BMW. Even as we left around 10:30p there were still people coming in. Middle of the summer, good night, no school, have fun!

Orange Julep Montreal, is located on the Decarie/15, near exit Jean-Talon. Julep Thursdays start usually after 8:30p, and end off at 11:00p. Moderate rain will cancel the event.


Statistics:
Males in photos: 182
Females in photos: 90
Babies in photos: 3
Dogs in photos: 2
Dialogue in photos: People like to have a good time.