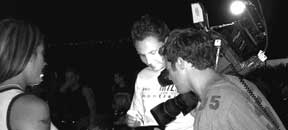 2002-07-25
RPMs girls find poutine at Julep
Looks like Coral from Import Eurasia was hosting this report of a new TV pilot called RPMs. With another perfect Thursday nite, the Julep was busy as usual--cars being turned away by bouncers, and cops harrasing drivers outside the Julep. Import Drag cars were present, probably to promote the Sanair Dragway event this coming Sunday. RPMs came over to LaFleurs desSources later on around 11pm to cover the scene there giving an exclusive to MontrealRacing.com . And so it appears again that the Quebec poutine has attracted ppl to a new cuisine.


The Stylelab Compact Car show is being held at the Sanair Dragway in St.Pie, Quebec, with the RMR Summer Nationals Drag Competition. July 28, 2002, starts at 8:00am. Admission is $15. Sanair est à une heure de l'Est de Montréal sur l'Autoroute 10,sortie 55 (nord sur Route 235) ou prenez la sortie 123 de l'Autoroute 20 (sud sur Route 235).

Orange Julep Montreal, is located on the Decarie/15, near exit Jean-Talon. Julep Thursdays start usually around 8:30p, and end off at 10:30p. Moderate rain will cancel the event.

LaFleurs West Island, is located on desSources South, off the Metropolitan 40 West. Thursday LaFleurs is supposed to start 9:00p. People tend to stay late, well into nidnite. Moderate rain will cancel the event.